Harvard achieves science-based climate goal set in 2008
Read story
Baker Library mounts exhibit on long career of scientific inventor, founder of Polaroid
Documentary offers an inside look at auditions for the Harvard University Choir
Study looks at mechanics of optimism in reducing risk of dying prematurely
Sat., December 10, 2016, 9:00am - 5:00pm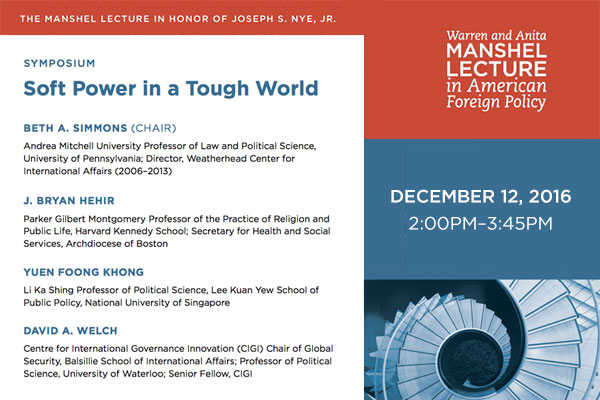 Mon., December 12, 2016, 2:00pm - 3:45pm
What is it like to win a Nobel Prize?
Just days after Hart received the prestigious academic award, the two colleagues and friends discussed everything from the perks that come with joining the cohort of Nobel winners to their childhood ambitions.
Reeps One's beatboxing brilliance at Harvard
Harry Yeff, an award-winning beatboxer who performs under the stage name Reeps One, came to Harvard to speak at two classes and created a spontaneous public art project on the Science Plaza.
Latest Harvard Gazette News
When someone makes a racially charged comment or joke, how would you respond? Research led by Harvard sociologist Michèle Lamont says your answer may very well depend on the group to which you …
Two comparative study of religion concentrators tell what drew them to their field, and how they plan to use their lessons to make a difference.
Ten Harvard students and alumni have been selected to attend Tsinghua University in Beijing as Schwarzman Scholars.
Islamic studies scholar Celene Ibrahim discussed the myths and realities of Muslim Feminism at the year's second Diversity Dialogue.
Get the latest Harvard Gazette news delivered to your inbox.
Today at Houghton Library, we celebrated the birthday of Emily Dickinson a day before her actual birthday of December 10th with an inspiring gathering of colleagues, scholars and students, faculty …
Post-election reflections from Harvard's Program on Science, Technology & Society
400x200-boy-astronauts.jpg On Thursday, senator and first American man to orbit Earth, John Glenn, died at the age of 95. …
I come from a fading industrial town—Albion, Michigan. In 1985 I would read the Chicago Tribune on how great things were in America and wonder which America it was writing about. …
A man in silhouette, head bowed, stands against a gray background. …
Competition from China appears to be hobbling innovation in the United States, say the authors of a new study that juxtaposes import penetration and patent applications. …