Whole person review
The College treats each applicant as an individual, and holds an expansive view of excellence; the admissions committee looks at the whole person and considers each applicant's unique background and experiences, alongside grades and test scores, to find applicants of exceptional ability and character, who can help create a campus community that is diverse on multiple dimensions (including on academic and extracurricular interests, race, socioeconomic background, and life experiences), and who can take advantage of all that Harvard offers and contribute to the learning and social environment for their classmates. Factors such as life experiences, overcoming adversity, or specific talents are particularly important in deciding who will be offered admission.
Race is one of many factors that Harvard considers in evaluating each applicant as a whole person, an approach that helps create a diverse campus community where students from all walks of life have the opportunity to share ideas and learn from each other. Harvard also uses many race-neutral means to pursue diversity—including extensive recruiting and one of the most generous financial aid policies in the country—and it has carefully studied other potential race-neutral measures, ultimately concluding that the consideration of race, among many other factors, remains necessary to attain an exceptional class that is diverse on many dimensions and central to the ability of Harvard College to pursue its educational mission.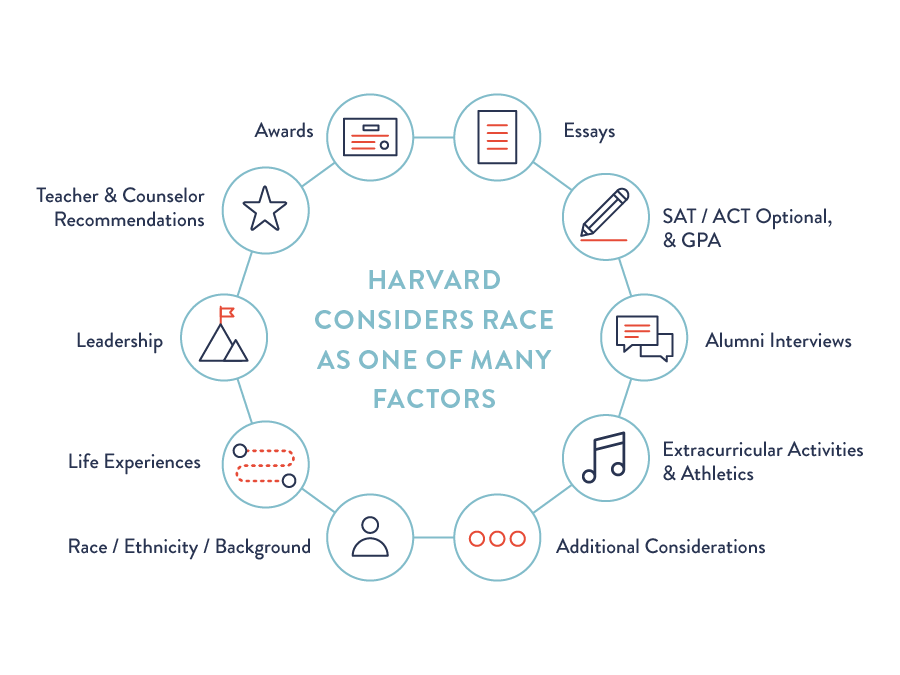 Key statistics
Applicant academic qualifications A large percentage of applicants are academically qualified to be admitted to Harvard. For example, each year, far more applicants have perfect SAT verbal scores or perfect SAT math scores than are admitted. While academic ability is important and necessary, and transcends test scores and GPAs, for applicants who are academically qualified, other factors bear significantly on admissions decisions.


An extraordinary applicant pool
The large majority of the 60,000+ applicants to Harvard College are academically qualified, requiring the College to consider more than grades and test scores.
In a recent admissions cycle there were:

2,000

available slots at Harvard College.

8,000

domestic applicants had perfect GPAs.

3,400

applicants had perfect SAT math scores.

2,700

had perfect SAT verbal scores.
Increase in applicants In recent years, there has been a steady increase in applicants across racial categories. Since 2010, the share of the Harvard admitted class that is Asian-American has grown significantly. The percentage of the class that is Asian-American fluctuates from year-to-year, though with overall growth. For example, the admitted class of 2016 had 16.3% more Asian-American students than the admitted class of 2015, while the admitted class of 2017 had 3.9% fewer Asian-American students than the admitted class of 2016.