History of the Presidency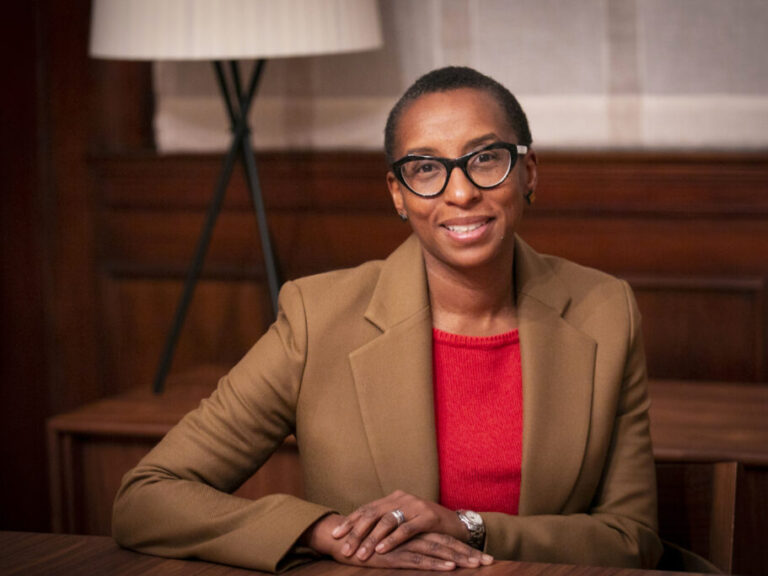 Term of office: 2023-present
Claudine Gay
Claudine Gay took office as the 30th President of Harvard University on July 1, 2023.
Term of office: 2018-2023
Lawrence S. Bacow is the 29th President of Harvard University. Widely recognized as one of higher education's most respected leaders, Bacow's tenure at Harvard has been marked by the creation of a range of academic initiatives, advocacy for public service, diversity and access to opportunity, and steady leadership of the university through the COVID-19 pandemic.Since taking office in 2018, Bacow has marshalled academic and financial resources to advance the university's teaching and research mission, creating new interdisciplinary collaborations on issues such as climate change, inequality, global health, the future of cities, as well as new initiatives in science and technology.  The Harvard and the Legacy of Slavery initiative, the Harvard Quantum Initiative, the Kempner Institute for the Study of Natural and Artificial Intelligence, the Bloomberg Center for Cities and the Salata Institute for Climate and Sustainability were all established under Bacow's tenure. He also expanded the role and operation of Harvard's office for Equity, Diversity, Inclusion and Belonging and created a new vice provost for climate and sustainability and an associate provost role for student affairs.Bacow stewarded Harvard through the COVID-19 pandemic. At his direction, Harvard became one of the first universities to shift coursework online in March 2020. With the presidents of Stanford and MIT, Bacow called for reduced density and social distancing and related disruption of university operations to slow the spread of the novel coronavirus. Harvard avoided pandemic-related layoffs and provided widespread support for employees, including an emergency financial assistance fund and pay and benefit continuity for those whose work had been displaced due to the pandemic. Bacow also advocated for the resumption of essential research activities as early pandemic measures stabilized conditions. In July 2020, in response to a U.S. Immigration and Customs Enforcement announcement that international students would have to depart the country if attending institutions that shifted to online instruction, Bacow initiated a successful lawsuit to stop the directive, ensuring international students at Harvard and nationwide would be able to continue to study in the United States.In June 2022, Bacow announced his plans to step down from the Harvard presidency on June 30, 2023. In his message to the Harvard community, he called the opportunity to serve Harvard, "the privilege of a lifetime."Prior to being elected to the Harvard presidency in 2018, Bacow served as a member of the Harvard Corporation, one of two of the University's governing boards, for seven years. While on the Corporation he served in a variety of leadership posts, including chairing the finance committee, committee on facilities and capital planning, and the governing boards' joint committee on inspection.Bacow maintained an active academic portfolio while serving on the Corporation, with a scholarly focus on higher education and leadership. From 2011 to 2014, he served as President-in-Residence in the Higher Education Program at Harvard's Graduate School of Education. From 2014 to 2018, he served as the Hauser Leader-in-Residence at the Harvard Kennedy School of Government's Center for Public Leadership. He has devoted his time to advising many new and aspiring higher education leaders, mentoring students interested in careers in education, teaching in executive education programs, and writing and speaking on salient topics in higher education – innovations in learning, academic freedom, the economics of universities, the impact of digital technologies, and university governance and leadership, among others. Prior to joining Harvard, Bacow was President of Tufts University from 2001 to 2011. During his tenure, he advanced the university's commitment to excellence in teaching, research, and public service and fostered collaboration across the university's eight schools. Under his leadership, Tufts pursued initiatives to enhance the undergraduate experience, deepen graduate and professional education and research in critical fields, broaden international engagement, and promote active citizenship among members of the university community. While at Tufts, Bacow emerged as a nationally recognized champion of expanding access to higher education through need-based student aid, while also advocating vigorously for federal support of university-based research. He worked to engender novel connections across academic disciplines and among Tufts' wide array of schools and helped craft a new partnership between the university and its principal teaching hospital, Tufts Medical Center. Bacow convened an international conference of higher education leaders in 2005 to initiate the Talloires Network, a global association of colleges and universities committed to strengthening the civic roles and social responsibilities of higher education. He launched Tufts' Office of Institutional Diversity and highlighted inclusion as a cornerstone of the university's excellence. He also strengthened relations between Tufts and its host communities and expanded outreach to alumni, parents, and friends. While guiding Tufts through the global financial crisis of 2008-09 and its aftermath, he brought to fruition the most ambitious fundraising campaign in the university's history. While president of Tufts, Bacow served as chair of the council of presidents of the Association of Governing Boards of Universities and Colleges, chair of the executive committee of the Association of Independent Colleges and Universities in Massachusetts, and a member of the executive committee of the American Council of Education's board of directors. During his tenure at Harvard, he has served on the Boards of the Association of American Universities, the American Council of Education, and the Consortium on Advancing Higher Education.Before his time at Tufts, Bacow spent 24 years on the faculty of the Massachusetts Institute of Technology, where he held the Lee and Geraldine Martin Professorship of Environmental Studies. He served as the elected Chair of the Faculty (1995-97) and then as Chancellor (1998-2001), one of the institute's most senior academic officers. As Chancellor, he guided the institute's efforts in undergraduate education, graduate education, research initiatives, international and industrial partnerships, and strategic planning, while playing an integral role in reviewing faculty appointments and promotions across MIT. Early in his career, he held visiting professorships at universities in Israel, Italy, Chile, and the Netherlands.As a member of the faculty, Bacow's academic interests ranged across environmental policy, bargaining and negotiation, economics, law, and public policy. He emerged as a widely recognized expert on non-adjudicatory approaches to the resolution of environmental disputes. He was co-director of MIT's Consortium on Global Environmental Challenges and played a key role in launching and leading both the MIT Center for Environmental Initiatives and the MIT Center for Real Estate. He was also associated with the Program on Negotiation at Harvard Law School. He is the author or co-author of four books and numerous scholarly articles on topics related to environmental policy, economics, land use law, negotiation, and occupational health and safety.Bacow formerly served as senior advisor to Ithaka S+R, a nonprofit organization devoted to innovation in higher education, and was one of the authors of its major 2012 study of online learning systems in U.S. higher education. He served as a member of the American Academy of Arts and Sciences' Lincoln Project on preserving and strengthening the nation's public research universities (2014-16), as well as on the White House Board of Advisors on Historically Black Colleges and Universities (2010-15). In 2017, he was Clark Kerr Lecturer at the University of California, Berkeley and the Robert Atwell Lecturer in 2003 at the American Council of Education. A Fellow of the American Academy of Arts and Sciences, he has received seven honorary degrees.Bacow was raised in Pontiac, Michigan. Interested in math and science from an early age, he attended college at MIT, where he received his S.B. in economics in three years and was a member of Phi Beta Kappa. He went on to earn three degrees from Harvard: a J.D. from Harvard Law School, an M.P.P. from the Harvard Kennedy School of Government, and a Ph.D. in public policy from the Graduate School of Arts and Sciences.He is married to Adele Fleet Bacow, a pioneering urban planner who he met on his first day of orientation at Harvard Law School. Adele is widely known nationally for her work in urban planning, cultural economic development, and the arts, and was recognized by Tufts in 2012 with the Hosea Ballou Medal, an honor bestowed only 17 times since 1939 for exceptional service to the university. The Bacows have two sons and four grandchildren.Bacow is an avid runner, sailor, and skier. He launched the President's Marathon Challenge at Tufts to raise funds in support of health and nutrition research, and he has completed five marathons. He was a member of the varsity sailing team at MIT, and the Sailing Pavilion at Tufts is named for him and his wife.
News and Statements by Lawrence Bacow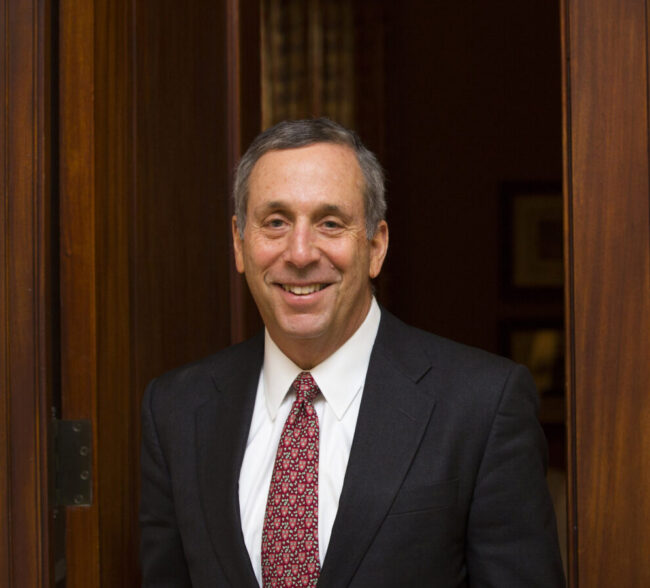 Term of office: 2007-2018
Drew Gilpin Faust is President Emeritus and the Arthur Kingsley Porter University Research Professor.
Faust served as the 28th president of Harvard University from July 1, 2007 through June 30, 2018.  She was Harvard's first female president, and the first Harvard president without a Harvard degree.
As president, Faust expanded financial aid to improve access to Harvard College for students of all economic backgrounds, advocated for increased federal funding for scientific research, returned ROTC to campus, and oversaw a record-breaking $9 billion capital campaign. She broadened the University's international reach, raised the profile of the arts on campus, embraced sustainability, launched edX, the online learning partnership with MIT, and promoted collaboration across academic disciplines and administrative units as she guided the University through a period of significant financial challenges.
A historian of the Civil War and the American South, Faust was the founding dean of the Radcliffe Institute for Advanced Study at Harvard, guiding its transformation from a college into a wide-ranging institute for scholarly and creative enterprise, distinctive for its multidisciplinary focus and the exploration of new knowledge at the crossroads of traditional fields.
Previously, Faust served as the Annenberg Professor of History at the University of Pennsylvania, where she was a member of the faculty for 25 years.
Raised in Virginia's Shenandoah Valley, Faust attended Concord Academy in Massachusetts. She received her bachelor's degree from Bryn Mawr College in 1968, magna cum laude with honors in history, and her master's degree (1971) and doctoral degree (1975) in American civilization from the University of Pennsylvania.
She is the author of six books, including "Mothers of Invention: Women of the Slaveholding South in the American Civil War" (University of North Carolina Press, 1996), for which she won the Francis Parkman Prize in 1997. Her most recent book, "This Republic of Suffering: Death and the American Civil War" (Alfred A. Knopf, 2008), looks at the impact of the Civil War's enormous death toll on the lives of 19th-century Americans. It won the Bancroft Prize in 2009, was a finalist for both a National Book Award and a Pulitzer Prize, and was named by The New York Times one of the "10 Best Books of 2008."  "This Republic of Suffering" is the basis for a 2012 Emmy-nominated episode of the PBS American Experience documentaries titled "Death and the Civil War," directed by Ric Burns. She is a contributing writer at The Atlantic.
Faust has been a trustee of Bryn Mawr College, the Andrew Mellon Foundation, and the National Humanities Center, and she serves on the educational advisory board of the Guggenheim Foundation. She has served as president of the Southern Historical Association, vice president of the American Historical Association, and executive board member of the Organization of American Historians and the Society of American Historians. Faust has also served on numerous editorial boards and selection committees, including the Pulitzer Prize history jury in 1986, 1990, and 2004.
Her honors include awards in 1982 and 1996 for distinguished teaching at the University of Pennsylvania. She was elected to the Society of American Historians in 1993, the American Academy of Arts and Sciences in 1994, and the American Philosophical Society in 2004. In September of 2018 she was awarded the John W. Kluge Prize for Achievement in the Study of Humanity by the Library of Congress.
Faust is married to Charles Rosenberg, one of the nation's leading historians of medicine and science, who is the Ernest E. Monrad Research Professor of the Social Sciences at Harvard. Faust and Rosenberg have two daughters, Jessica Rosenberg, a 2004 summa cum laude graduate of Harvard College, and Leah Rosenberg, Faust's stepdaughter, a scholar of Caribbean literature.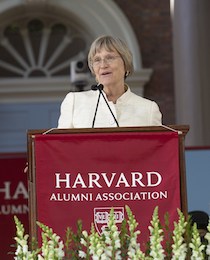 Term of office: 2001-2006
Lawrence H. Summers is President Emeritus and Charles W. Eliot Professor of Harvard University. He has served in a series of senior public policy positions, including Director of the National Economic Council for the Obama Administration from 2009 to 2011, and Secretary of the Treasury of the United States, from 1999 to 2001. He received his bachelor of science from the Massachusetts Institute of Technology in 1975 and a Ph.D. from Harvard in 1982.
In 1983, he became one of the youngest individuals in recent history to be named a tenured member of Harvard's faculty. In 1987, he became the first social scientist ever to receive the annual Alan T. Waterman Award of the National Science Foundation (NSF), established by Congress to honor an exceptional young U.S. scientist or engineer whose work demonstrates originality and a significant impact within one's field. In 1993, Mr. Summers was awarded the John Bates Clark Medal, given every two years to the outstanding American economist under the age of 40. Mr. Summers took leave from Harvard in 1991 to return to Washington, this time as vice president of development economics and chief economist of the World Bank.
In 1993, Summers was named as the nation's Undersecretary of the Treasury for International Affairs. In 1995, then Secretary Robert E. Rubin promoted Mr. Summers to the department's number-two post, Deputy Secretary of the Treasury, in which he played a central role in a broad array of economic, financial, and tax matters, both international and domestic. On July 2, 1999, the United States Senate confirmed Mr. Summers as Secretary of the Treasury. At the end of his term as Treasury Secretary, Mr. Summers was awarded the Alexander Hamilton Medal, the treasury department's highest honor.
On July 1, 2001, Mr. Summers took office as the 27th president of Harvard University. As president he oversaw significant growth in the faculties, the further internationalization of the Harvard experience, expanded efforts in and enhanced commitment to the sciences, laying the ground work for Harvard's future development of an expanded campus in Allston, and improved efforts to attract the strongest students, regardless of financial circumstance, with the Harvard Financial Aid Initiative. These initiatives were sustained by five years of successful fundraising and strong endowment returns.
In 2009, Mr. Summers was appointed to serve as the Director of the National Economic Council for the Obama Administration.  He returned to his position at Harvard in early 2011.  As Director of the White House National Economic Council and Assistant to the President for Economic Policy, Summers served as a key economic decision-maker in the Obama administration. Mr. Summers was the chief White House advisor to the President on the development and implementation of economic policy and led the President's daily economic briefing. He was also a frequent public spokesman for the Administration's policies.
Born in New Haven, Connecticut, on November 30, 1954, Mr. Summers spent most of his childhood in Penn Valley, Pennsylvania, a suburb of Philadelphia, and was educated in the Lower Merion public schools. He and his wife Elisa New, a professor of English at Harvard, reside in Brookline with their six children.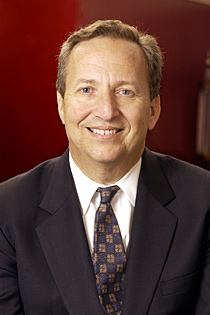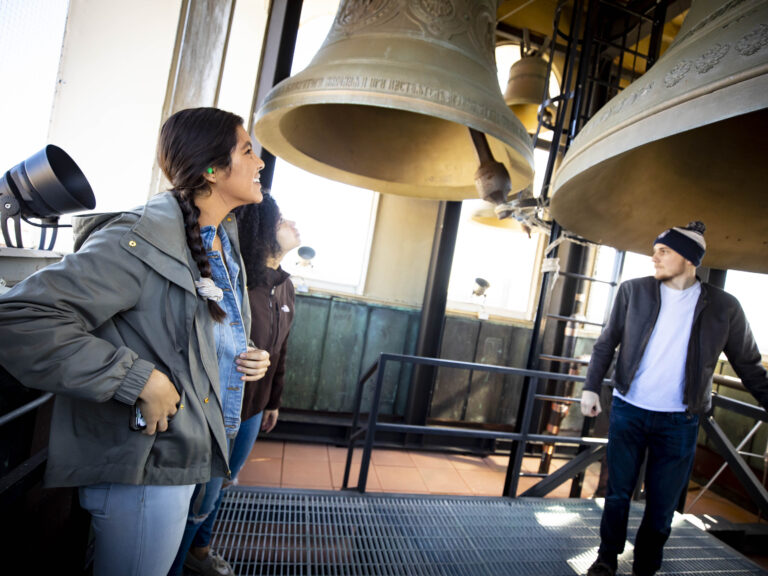 What's in a name?
Lowell House
Named for Harvard President Abbott Lawrence Lowell and his family, the Lowell House, constructed in 1930, is home to a collection of 17 Russian bells, which were given as a gift in 1930.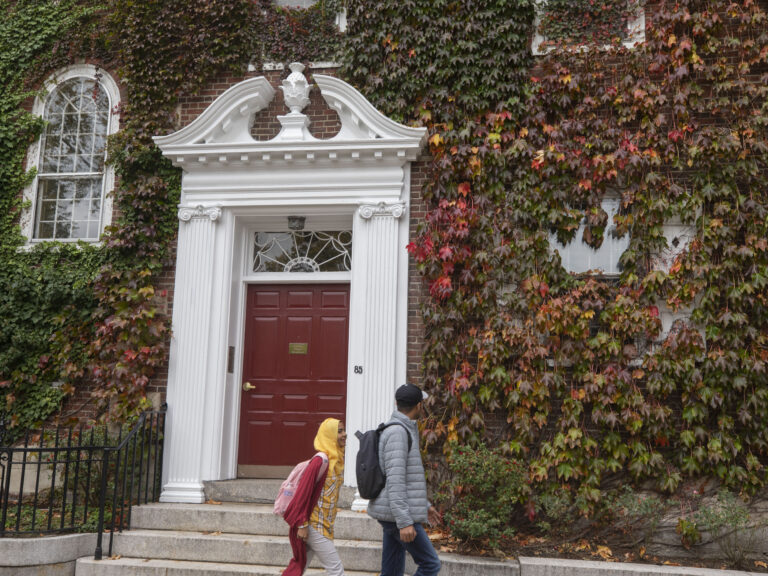 What's in a name?
Kirkland House
Named for John Thornton Kirkland, who served as President of Harvard from 1810 to 1828, an important period of growth and expansion for the College.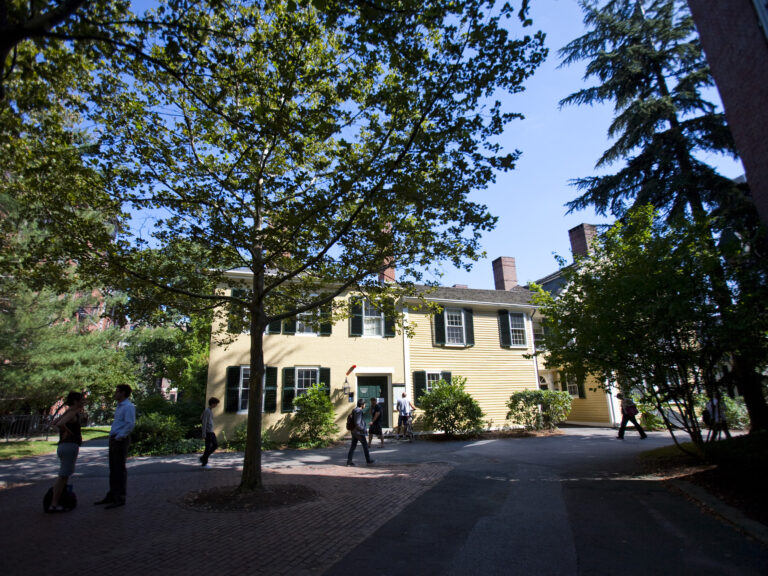 What's in a name?
Wadsworth House
Named for Harvard President Benjamin Wadsworth, Wadsworth House is the second oldest building at Harvard. General George Washington set up his first Massachusetts headquarters in the house while in command of the Revolutionary troops.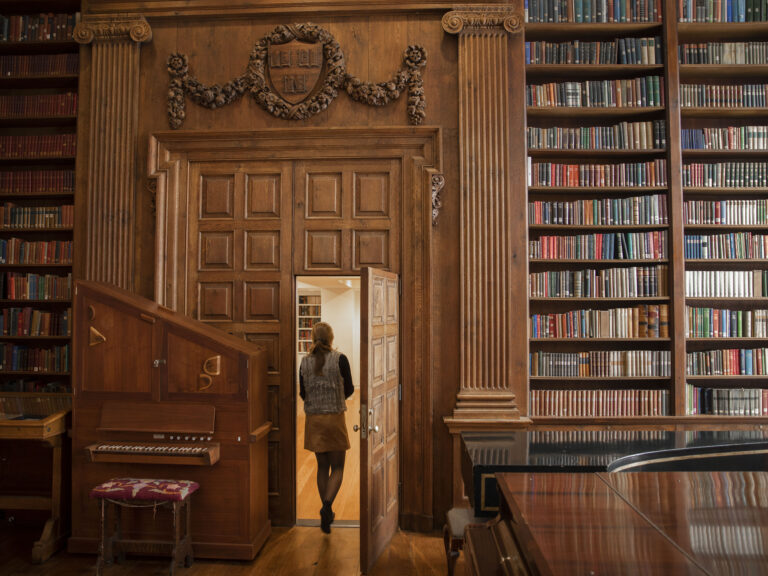 What's in a name?
Dunster House
Named in honor of Henry Dunster, who became the first president of Harvard College immediately after his arrival in the Colony of Massachusetts Bay in 1640. When he left the College in 1654, it had become a well-established institution.