Art Museums exhibition explores migration and belonging — while conjuring memories for some visitors
Read story
Caroline Light and her students use an interdisciplinary approach to examine the ways emotion and work intersect
The Harvard Women in Technology + Allies Mentoring Program offers mentorship, support for women in IT
Harvard Ed School grad and her students are leading a national effort to redefine what it means through personal stories
Archives of the drag queen, cabaret singer, and performance artist were recently acquired by Houghton Library
To Serve Better: Harvard across the country
Clint Smith, whose dissertation focuses on juveniles facing life sentences, leads a prison reading program in Washington, D.C.
Marnie Gelbart works to increase public understanding of genetics, and the ethical, legal, and social implications
Sarah Lockridge-Steckel founded The Collective, which works to help young people in Memphis, Tennessee
Friday, December 6, 2019, 7:00pm - 8:00pm
Latest Harvard Gazette News
New research suggests a country's degree of gender equality can shape men's ability to recognize famous female faces.
Nikole Hannah-Jones of The New York Times and Harvard Professor Henry Louis Gates Jr. …
Harvard researchers have demonstrated the first material that can have both strongly correlated electron interactions and topological properties. …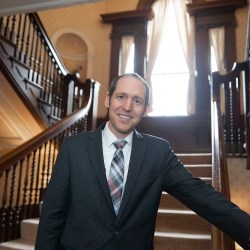 A McLean psychologist has pioneered a program that aims to bring together two key emotional forces at work in patients' lives: spirituality and counseling.
Get the latest Harvard Gazette news delivered to your inbox.
Dec 4, 2019The authors explain why the Trump administration's reiteration of its intent to finalize U.S. withdrawal from the Paris Agreement is a tragic mistake that will weaken us as a nation.
On Thursday, November 14, 2019, Kerry M. Sonia, WSRP Research Associate and Visiting Assistant Professor of Women's Studies and Hebrew Bible, gave the lecture, "Like a Woman in Labor: The Ritual …
Dec 4, 2019Environmental economists from Harvard, Yale, and other leading research institutions say an Environmental Protection Agency (EPA) proposal that would eventually allow more mercury …
Editor's note: This month, we bring you brief reminders from pros around the world about what or who helped them forward in their careers. …
Sponsor content from Deloitte.
An analysis of studies found an association between people with psoriasis and an increased risk of developing several types of cancer. …