The student-run Harvard Sports Analysis Collective takes a look at key questions in basketball, including March Madness
Read story
A new study shows that sugar-sweetened drinks increase the risk of mortality, especially in women
Harvard Medical School students learn where they'll spend their residencies
Yo-Yo Ma and Philharmonic director Borda discuss music as a force for social justice
A new study uncovers genes that control the process of whole-body regeneration
Bloomberg Harvard City Initiative: Mapping Poverty in Laredo
Harvard students embedded themselves in mayors' offices around the country in a new fellows program targeting local problems. In Laredo, Texas Santiago Mota helped officials understand why a third of households remain in poverty for generations.
Angela Merkel named Harvard Commencement speaker
German Chancellor Angela Merkel, one of the world's most influential leaders since ascending to her country's highest office in 2005, will be the principal speaker at the Afternoon Program of Harvard's 368th Commencement on May 30.
Latest Harvard Gazette News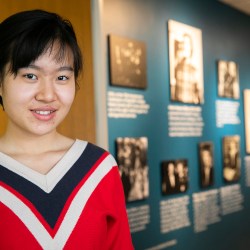 A new photo exhibit is on display at Currier House to highlight its namesake, Audrey Bruce Currier '56, other Radcliffe alumnae, and the House's unique history.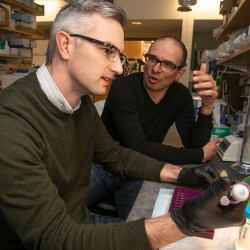 New research from Massachusetts General Hospital traces a previously unknown pathway from poor sleep to an increase in the fatty plaques that line blood vessels in atherosclerosis, a key feature of …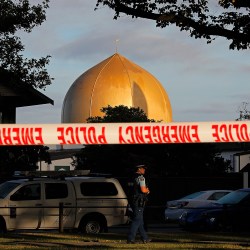 Adam Serwer, a staff writer for The Atlantic and a Shorenstein fellow, discusses the lasting appeal of white supremacist ideology in light of an avowed white supremacist's attack on two mosques in …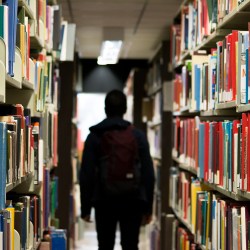 Disadvantaged students today are doing no better compared to their advantaged peers than they were in 1954, despite countless programs to bridge this gap. …
Get the latest Harvard Gazette news delivered to your inbox.
Recently at the center of the Mediterranean refugee crisis, the human rights advocate Hernan del Valle RI '19 believes that it's time to reframe the narrative around immigration—and that …
The health and policy expert Sara Bleich has found that when trying to change the way people eat, being prescriptive isn't always the answer. …
Charles Stang, director of the Center for the Study of World Religions and Professor of Early Christian Thought, delivered the first Price Lecture of 2019 at Trinity Church Boston on March 10, 2019. …
 Position Overview The International Human Rights Clinic at Harvard Law School seeks an experienced practitioner for a consultancy to support an exciting new women's leadership
A Q&A with interim CEO Dr. Jaewon Ryu
Safety precautions can prevent a child from accidentally ingesting or being exposed to poisonous or harmful items in your home, but knowing what to do if something happens can save a life. …
1000x500_BlackEduStruggle.jpg Event details: Thursday, March 28, 2019 4–5:30 p.m. …
They're where the biggest opportunity lies.