The cool, crisp air of fall has arrived on campus
Read story
The new study on music examines it as a cultural product and what makes it truly "universal"
New faculty member studies power and money through the lens of mobility and restriction
An exercise at Kennedy School explores the dangers if large sums could be secretly sent to hostile nations
Harvard Medical School's Sharon Inouye outlines Grand Challenge contest to fund innovations in field
To Serve Better: Harvard across the country
Clint Smith, whose dissertation focuses on juveniles facing life sentences, leads a prison reading program in Washington, D.C.
Marnie Gelbart works to increase public understanding of genetics, and the ethical, legal, and social implications
Sarah Lockridge-Steckel founded The Collective, which works to help young people in Memphis, Tennessee
Latest Harvard Gazette News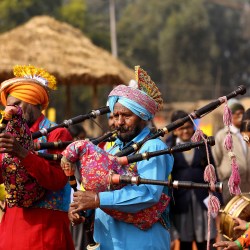 Scientists at Harvard published a study on music as a cultural product, which examines what features of song tend to be shared across societies.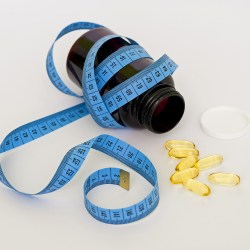 Young women's use of diet pills, laxatives for weight control linked with later eating disorder diagnosis.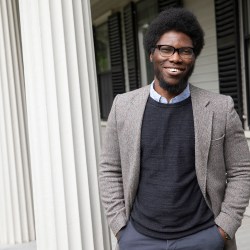 Daniel Agbiboa sees free and restricted movement as integral to the development of political, economic, and social systems. His work makes connections between these intersections in West Africa.
Gone are the warm, carefree days of summer; the cool, crisp air of a new season brings with it winds of change, and fall has arrived.
Get the latest Harvard Gazette news delivered to your inbox.
Over two hundred molecules have been discovered in space, some (like Buckminsterfullerene) very complex with carbon atoms. …
President Lawrence S. Bacow announced the creation of a University-wide initiative to address and further research the school's ties to slavery. …
A new study suggests you start by becoming a reliable colleague.
A commercial for the fibromyalgia medication Lyrica gets certain points right, yet important information is missing, such as other vital aspects of treatment and how this drug compares to other …
BRIDGEPORT, Pa. – The Friends of Harvard Water Polo and James Herscot '58 Coach of Excellence Ted Minnis and four members of the Harvard men's water polo team earned end-of the-year honors from …
PRINCETON, N.J. - Matthew Glass has been named Honorable Mention All-Ivy as announced by the League this week.
A new Harvard committee charged with addressing the legacy of slavery on campus will build on the momentum created by Radcliffe's "Universities and Slavery: Bound by History" conference. …