Artificial Intelligence
From health care to education, policy to art, artificial intelligence is rapidly changing our world and our daily lives.
Are we ready?
The big questions
Explore more lingering questions about artificial intelligence throughout the page.
Harvard Business School faculty members discuss how artificial intelligence could reshape how work gets done.
A Harvard Kennedy School expert explores how regulation and other tools can ensure that AI tools work for everyone.
Harvard writers, animators, architects, musicians, and mixed-media artists explain whether they see AI as a threat, collaborator, or tool.
Can AI get
an M.D.?
From diagnosing diseases to predicting patient outcomes, new AI models could have a major impact on the quality and efficiency of healthcare.
---
Some of the most pressing questions in medicine can be advanced through the application of AI in the clinic."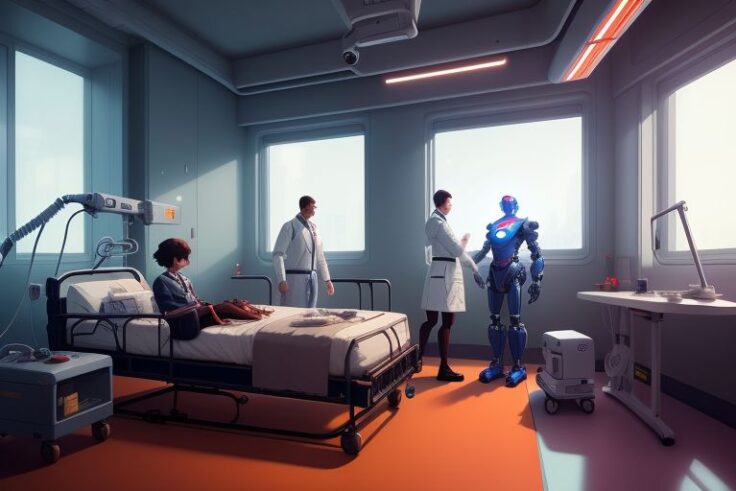 This image was created with generative AI
The future of healthcare
Harvard Medical School professor Jagmeet Singh's new book explains how the practice of medicine will become increasingly virtual, aided by digital technologies like artificial intelligence, telehealth, and wearable devices.
Read More
Does AI have a place in schools?
---
Harvard Graduate School of Education has collected advice for teachers, parents, guardians, and students on how AI can be a helpful part of the learning experience.

How can we future-proof the future?
Researchers across Harvard are exploring how we can better understand artificial intelligence to ensure we can utilize its potential and avoid harm.
---

Understanding how intelligence works
Working to advance the understanding of the nature of intelligence, the Kempner Institute is bringing researchers across disciplines like computational theory, AI and machine learning, neuroscience, and cognitive science together to develop next generation AI systems.
Empowering more users
During her Radcliffe fellowship, Fernanda Viégas is exploring new modes of human/AI interaction to help drive improvements in lay user agency and control of AI systems.
Explore the Radcliffe video
Creating technical oversight
New research and collaboration at the Berkman Klein Center is leading the way to developing effective mechanisms for accountable technical oversight.
Read how to regulate tools like ChatGPT
Ensuring responsible use
Given how regulation lags technological capabilities and how quickly the AI landscape is changing, the burden of ensuring that these tools are used safely and ethically will often fall to the individual and companies.
Read more from Harvard Business Review
You may also like
Related In Focus topics