"Poetry and language are often at the heartbeat of movements for change."
-Amanda Gorman


Woodberry Poetry Room
Nestled in Lamont Library in a room designed by renowned Finnish architect Alvar Aalto, you'll find the Woodberry Poetry Room, a special collections reading room and audio-visual archive, and a lively literary center at Harvard—free and open to the public.
The Poetry Room, a curatorial division of Houghton Library, features a circulating collection of 20th and 21st century poetry, over 150 literary magazines, and a landmark audio-visual collection featuring recordings from 1933 to the present day.
With over 5,000 recordings on a range of media that span the 20th and 21st centuries, including phonodiscs, magnetic tape (reel to reel and cassette), CDs, DATs, and born digital, the collection is one of the largest and earliest poetry-specific sound archives in the United States.
Emily Dickinson Collection
What kind of desk did Emily Dickinson sit at when she penned "Hope is the Thing with Feathers"? What did her handwriting look like? What sorts of herbs and flowers did the poet preserve in her fabled Herbarium?
The Houghton Library's Emily Dickinson Collection is the largest in the world. It preserves more than 1,000 handwritten autograph poems; some 300 letters; the writing table and chair from her bedroom in Amherst, where she wrote much of her poetry; and the family library, including the poet's Bible, and books by the Brontës, the Brownings, George Eliot, Emerson, Shakespeare, and more.
The Listening Booth
The Listening Booth is a digital audio archive featuring a selection of recordings from the Woodberry Poetry Room's audio visual collection.
Listen to poems, lectures, and readings from Ezra Pound, Elizabeth Bishop, W.H. Auden, E.E. Cummings, Jacques Derrida, Sylvia Plath, Robert Frost, Audre Lorde, Anne Carson, Jorge Luis Borges, Anais Nin, Ralph Ellison, Wallace Stevens, Claudia Rankine, Adrienne Rich, T.S. Eliot, and many others.
Selections from the Listening Booth
T.S. Eliot's Earliest Harvard recordings
Listen to a selection of poems, read by the author, from Harvard Woodberry Poetry Room's archives.
In celebration of the Woodberry Poetry Room's 90th anniversary, the T.S. Eliot estate has granted Harvard permission to make Eliot's earliest known poetry recordings available to the public. This includes a reading originally released on the Harvard Vocarium label in 1933 and later compiled in 1951 (the playlist below), and a complete live reading Eliot gave at Sanders Theatre in 1947 (available on Soundcloud).
GALLERY
From the archives
Explore a selection of Harvard poets' notebooks, signatures, and letters.
Harvard poetry, past and present
Speak, memory
Alaskan poet and Radcliffe fellow Joan Naviyuk Kane shares her dedication to sustaining King Island Inupiaq, her Native Alaskan language, through poetry.
Douglas Ridloff
Harvard Radcliffe Institute presents Transients: A Poetry Reading and Discussion with Douglas Ridloff, founder and executive director of ASL Slam, a nonprofit organization that creates safe spaces for the Deaf community to thrive in the many modalities of their native language.
Vocarium Reading series
The Woodberry Poetry Room's Vocarium Reading series presents poets M. NourbeSe Philip (author of "Zong!") and Cecilia Vicuña (author of "Spit Temple: The Selected Performances" of Cecilia Vicuña). This reading is a part of the Poetry Room's fall 2020 celebration of pioneering women poets from around the world, in commemoration of the centennial of US women's suffrage.
Explore more recordings from the Woodberry Poetry Room on YouTube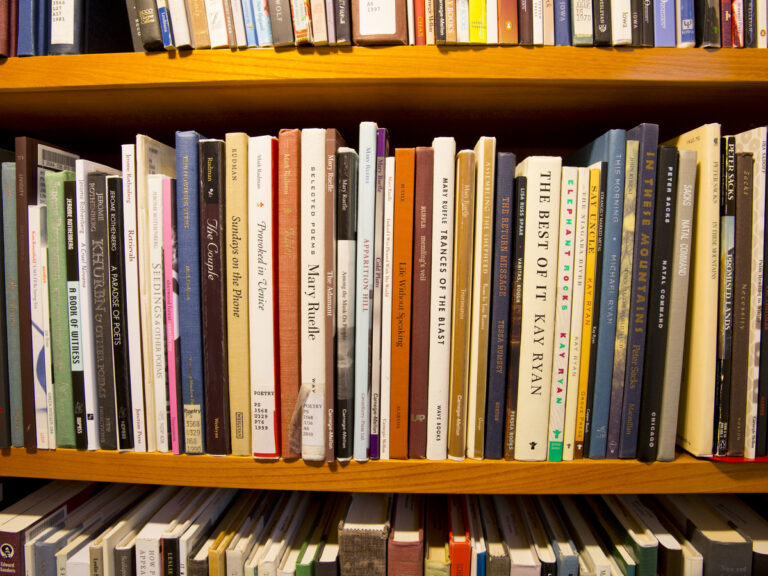 A public classroom
Created and directed by Harvard professor Elisa New in partnership with Harvard, "Poetry in America" is a public television series and multi-platform educational initiative that brings poetry into classrooms and living rooms around the world.
"Poetry in America" offers free online courses for global learners as well as for-credit and professional development courses for undergraduates, graduate students, highly motivated high-school students, and educational practitioners.