Learn how to be happy
Is there a formula for happiness, and can you apply it to your own life? Professor Arthur Brooks thinks so.
Studying happiness
Explore ancient Chinese philosophy, ethics, and political theory to challenge your assumptions of what it means to be happy, live a meaningful life, and change the world.
Take the free course
Understanding happiness
Learn how the origins of joy can improve the way we lead organizations—and our personal lives.
Explore the origins of joy
Practicing happiness
Research shows that short writing exercises reliving happy moments boosted the moods of adults recovering from addiction.
Read about the study
The Leadership and Happiness Laboratory
The Leadership and Happiness Laboratory conducts research and creates resources for leaders to learn the science of happiness, apply it in their own lives, and share it with others.
Managing Happiness
What if you can will yourself to be happy? This free online course gives participants data-backed strategies to make themselves happier.
Health and happiness
Research has long indicated the link between our happiness and physical health. A study from the Harvard Chan School finds a host of health benefits that accompany an optimistic attitude.
Good genes are nice, but joy is better
When scientists began tracking the health of 268 Harvard sophomores in 1938, they hoped the study would reveal clues to leading healthy and happy lives. They got more than they ever expected.
Learn more about the study
Linking happiness and wellbeing
A Harvard-led study found that younger adults have the lowest scores in a dozen wellbeing measures compared to other age groups.
Read more from The Harvard Gazette
Finding happiness in community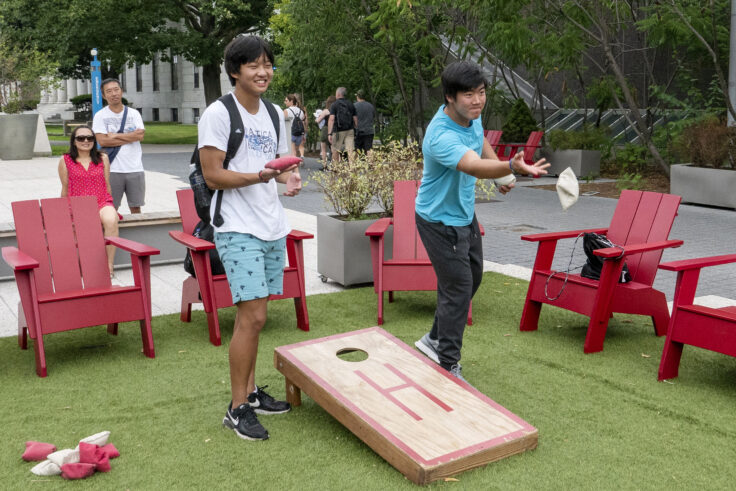 The value of relationships
Robert Waldinger, director of the Harvard Study of Adult Development, says one of the biggest surprises they encountered was that what makes people happy is also what helps keep them healthy—relationships.
Read More

How do you measure and govern for happiness?
An international conference of academics, practitioners, corporate managers, and spiritual leaders at the Harvard Divinity School sought answers to the question of universal happiness.
You may also like
Related In Focus topics