Public service, public good
Difference makers
These Harvard alumni and fellows are advocating for others, building community, and creating opportunities to learn.
Helping at home
After graduating from the Graduate School of Education's Learning and Teaching Program, Aramide Oluwaseun Akintimehin dedicated herself to improving education in her home country of Nigeria.
Learn more about Aramide's work
Local love and care
Harvard Medical School alum Jim O'Connell founded Boston Health Care for the Homeless, dedicating his life to helping the city's most vulnerable citizens.
Explore what motivates Dr. Jim
A dentist goes to Washington
Jacqueline Burgette was the very first dentist to be selected as a White House Fellow, a leadership program that brings together individuals to work alongside public servants.
Read more about Jacqueline's experience
We are able to provide care to a patient population in need."

Betty Ben Dor, Harvard School of Dental Medicine student

Betty and many other Dental School students volunteer and learn at ACTION, a student-run pediatric dental clinic at Harvard, which provides care to pediatric patients at the Cambridge Health Alliance in Cambridge and the Greater Boston area.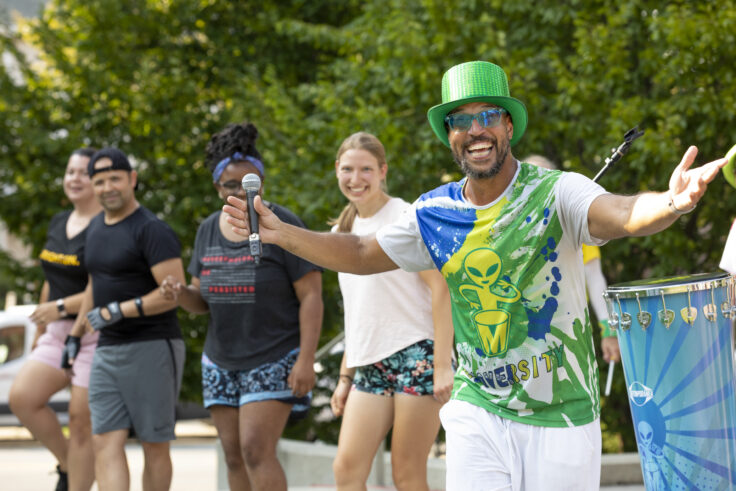 Sharing the arts
The Ed Portal's family-friendly Concerts in the Common bring music, dance, storytelling, and demonstrations to the community.
Read More
No one is less because they go to a food pantry. No one deserves to be hungry."

Leah Gose, Graduate School of Arts and Sciences alum

Leah is shedding light on how we can work together to provide nutritional assistance, address barriers to access, and create policies that eliminate food insecurity.
Bringing art to everyone
In Connecticut, Harvard Graduate School of Education alum Clare Murray started cARTie, a van with art and art activities that travels to kids who don't typically have the financial means or access to art museums.
Check out the mobile art van
Designing food security
In his class "The Paradox of Hunger—Rural Mississippi," Design Critic in Architecture Cory Henry asked students to examine the Mississippi food insecurity crisis and investigate what mitigating role architecture and design could play.
Explore the project
Inspiring future scientists
The "Quantum Engineering Research and You (QuERY)" outreach program connects high school students in Houston, Texas, with current graduate and postdoctoral students at SEAS and MIT.
Explore the program
Working to end homelessness
Through his work with the Los Angeles Homeless Services Authority and in his own consulting work, Harvard Kennedy School alum Chuck Flacks aims to end homelessness in Los Angeles and Santa Barbara County.
Read more about Chuck's work
Eliminating period poverty
Panelists at a Radcliffe community event discussed menstrual equity and efforts to promote it at Harvard and across the nation.
Learn more about menstrual equity
More ways Harvard is working nationally:
Why are we just dreaming about it? Can we set a deadline for the end of poverty?"

Jim Yong Kim, Harvard Medical and Harvard Griffin GSAS alum

With his friend Paul Farmer, Jim Yong Kim co-founded Partners in Health, which now delivers care to millions in the world's poorest places.
More ways Harvard is thinking globally:
YOU MAY ALSO LIKE
Related In Focus topics