With haunted houses and ghost stories, pumpkins and candy corn, we're wishing you a Happy Halloween
Massachusetts Hall
The ghost of Holbrook Smith, reportedly a member of the Class of 1914 though no record of him exists, haunted Massachusetts Hall until a former dean told him to leave.
Memorial Hall
Legend has it that ghosts stalk the basement of Memorial Hall. Spirits have also been seen looking out of the windows and walking on the lawns outside.
Apthorp House
Apthorp House, part of Adams House, is purportedly haunted by the ghosts of Revolutionary War soldiers, including General John Burgoyne.
Lowell House
Former Faculty Dean Elliott Perkins is said to still linger in Lowell House alongside the spirit of poet Amy Lowell.
Cabot Library
The ghost of Radcliffe alumna Margaret Coleman Waites, Class of 1905, is said to linger in the Cabot Library suite, which houses a collection of her books and antiques.
Tunnels
One of Harvard's most mysterious spots, tunnels running underground throughout campus can reach over 100 degrees and some even have hidden entrances.
A host of ghosts
In these courses, undergraduate students learn about and craft tales of demons, monsters, and ghosts.
---
Something wicked this way comes
Get ready for Halloween with these haunting recommendations from across the University.
From tricks to treats
Learn about the past, present, and future of this haunting holiday.
This slime mold doesn't have a brain but it performs many behaviors that we associate with thinking, like solving mazes, learning new things, and predicting events. Learn more about slime mold.
In 1848, Phineas Gage survived having a three-foot tamping iron blasted through his skull. Both his skull and the iron are housed at Harvard's Countway Library. Learn more about Pineas Gage.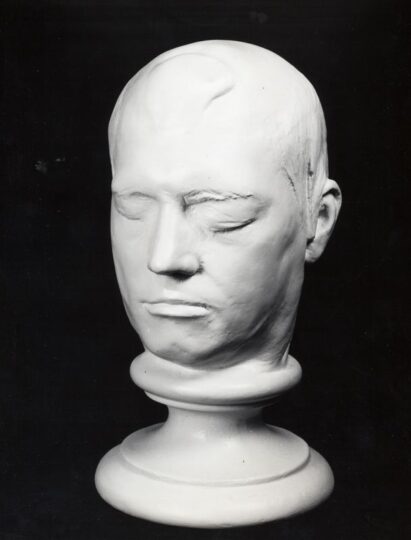 Veritalk podcast
Monster mash
Human beings are fascinated by creatures that are a little bit human, a little bit animal, and maybe even a little bit dangerous.
Listen to episode 2: Parasites
Get in the Halloween spirit
Costume party
YOU MAY ALSO LIKE
Related In Focus topics